Founder Jennifer Hill has spent the past 13+ years as a professional recruiter, motivational speaker, media personality, author, social media & career expert. Ms. Hill began recruiting in 2003, and have recruited for top tier law firms & corporations throughout the country.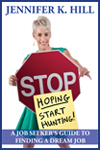 I recently finished my first book "Stop Hoping…Start Hunting!" A Job Seeker's Guide to Finding a Job which is now available everywhere books are sold. To find out more about my book or where to buy it you can go to stophopingstarthunting.com
In the past five years, Ms. Hill has been interviewed by Good Day LA, KTLA, CTV, CBS, NBC, ABC, FOX & BBC News as an expert in the field of recruiting & job hunting, in addition to being a featured speaker for groups such as the Association of Legal Administrators, UCLA, PIHRA, LAPA, IMC, Kaiser and SBPA.
In April of 2016, Ms. Hill began hosting a Podcast on LA Talk Radio every Monday at 4pm, called Get Yourself The Job, which can also be found on iTunes. The show metrics currently are up to almost 10,000 listeners a month.
Tune in every Monday at 4pm to my LA Talk Radio Podcast: Get Yourself the Job
http://latalkradio.com/content/get-yourself-job
Ms Hill was also very fortunate to accidentally wind up on the Conan O'Brien show back in March of 2014.